This series of maps and charts tracks the global spread of the virus.
Source: BBC News
Reprinted for educational purposes and social benefit, not for profit. 
Where are coronavirus cases and deaths still rising?
The virus, which causes the respiratory infection Covid-19, was first detected in the city of Wuhan, China, in late 2019.
It then spread quickly across the globe in the first months of 2020, reaching more than 15 million confirmed cases by the second half of July.
Europe and North America saw the first major outbreaks in April but as they began to ease, Latin America and Asia started seeing an increase in cases.
North America has seen a resurgence of infections in recent weeks, mostly driven by new outbreaks in the US.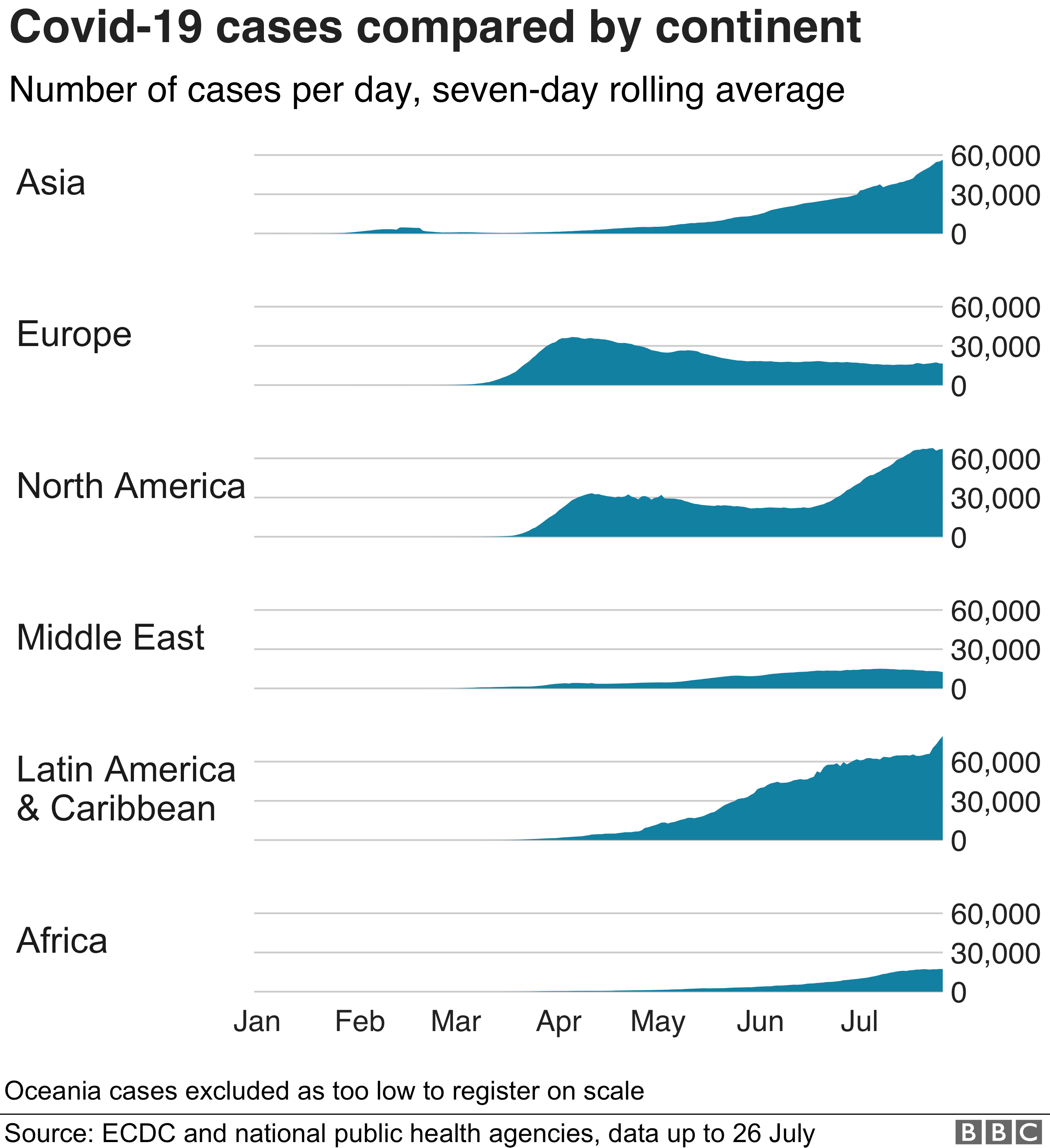 The head of the World Health Organization (WHO), Tedros Adhanom Ghebreyesus, has said the coronavirus pandemic is "easily the most severe" global health emergency the organization has ever declared and that it "continues to accelerate".
However, he has also pointed out that, though the virus has been detected in 188 countries, almost half of all cases reported so far were from just three: the US, Brazil and India.
Latin America is now the epicentre of the pandemic. Brazil is the worst-hit in the region so far, with more than 85,000 deaths.
WHO emergencies expert, Mike Ryan, has said that whilst the number of Covid-19 cases is no longer rising exponentially in Brazil, the country was "still very much in the middle of this fight."
The country saw its worst week of the pandemic last week when a record 319,653 contracted the virus and 7,677 people died.
Colombia, which has seen more than 8,000 deaths, extended its nationwide lockdown after infections accelerated in several cities.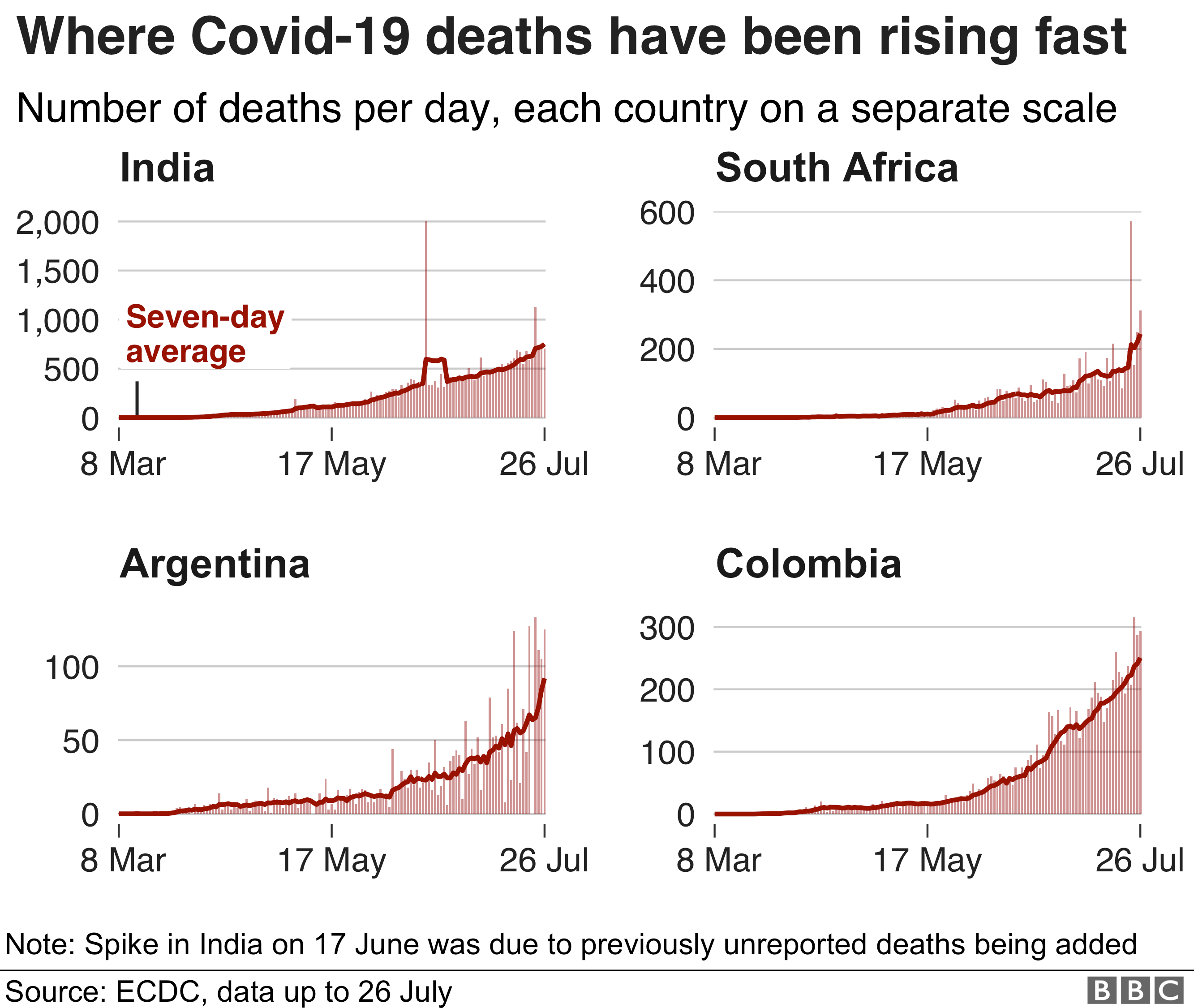 In Asia, India has seen almost 1.5 million cases and several states re-imposed partial lockdowns just weeks after a two-month nationwide lockdown was ended.
On Monday, the country announced a record number of new cases, with almost 50,000 confirmed cases in 24 hours.
South Africa and Egypt have seen the largest outbreaks so far in Africa. But testing rates are reported to be extremely low in some parts of the continent, which could be distorting official estimates of how far the virus has spread.
A report by the South African Medical Research Council suggests that country's death toll could be much higher than reported.
Are any countries seeing a 'second wave' of cases?
Previous pandemics have unfolded in "waves" of infections, with fresh outbreaks recurring after the initial peak subsides. Health experts think Covid-19 may follow a similar pattern, but there is no firm agreement on what exactly constitutes a second wave.
Although a number of countries have seen a rise in infections after appearing to have the virus under control, they may still be in the first stages of the outbreak. And rising cases may sometimes be down to increased testing.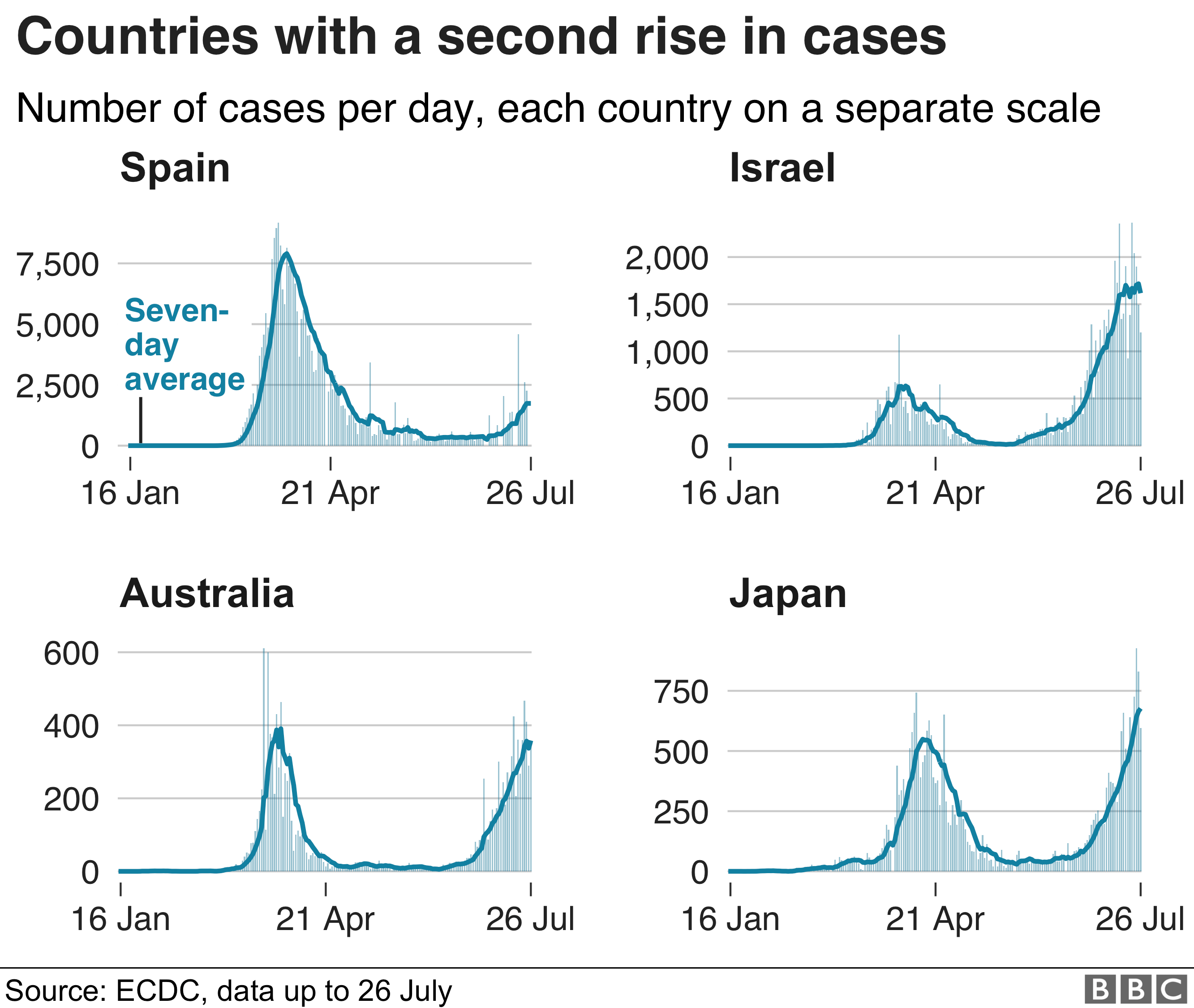 Spain has seen a surge in new cases – reporting more than 900 on Friday. In response the north-eastern region of Catalonia has announced the closure of nightclubs and late-night bars.
The UK has announced a new ban on all but essential travel to the country – and visitors returning to the UK from Spain will have to quarantine for 14 days.
There has also been a second rise in cases in Israel since restrictions were eased at the end of May.
On Monday, Australia recorded its biggest daily spike, with more than 530 new cases in Victoria state. The surge in cases is mostly centred on the city of Melbourne, where people have been told to wear masks when out in public.
Meanwhile, Japan's capital Tokyo has seen record numbers of cases in recent days, driving a second surge nationwide. The government has said that a campaign to promote travel within the country and help boost the economy will not include Tokyo.
US seeing a second surge of cases
The US has seen record numbers of new cases in recent weeks and the death toll has also started to rise.
The renewed surge is being driven by fresh outbreaks in the south and west of the country, which have seen infection rates go up since states started easing lockdown restrictions at the end of May.
On Thursday, the number of recorded cases in the US reached four million.
Its death toll stands at more than 145,000 – almost a quarter of the reported coronavirus deaths around the world.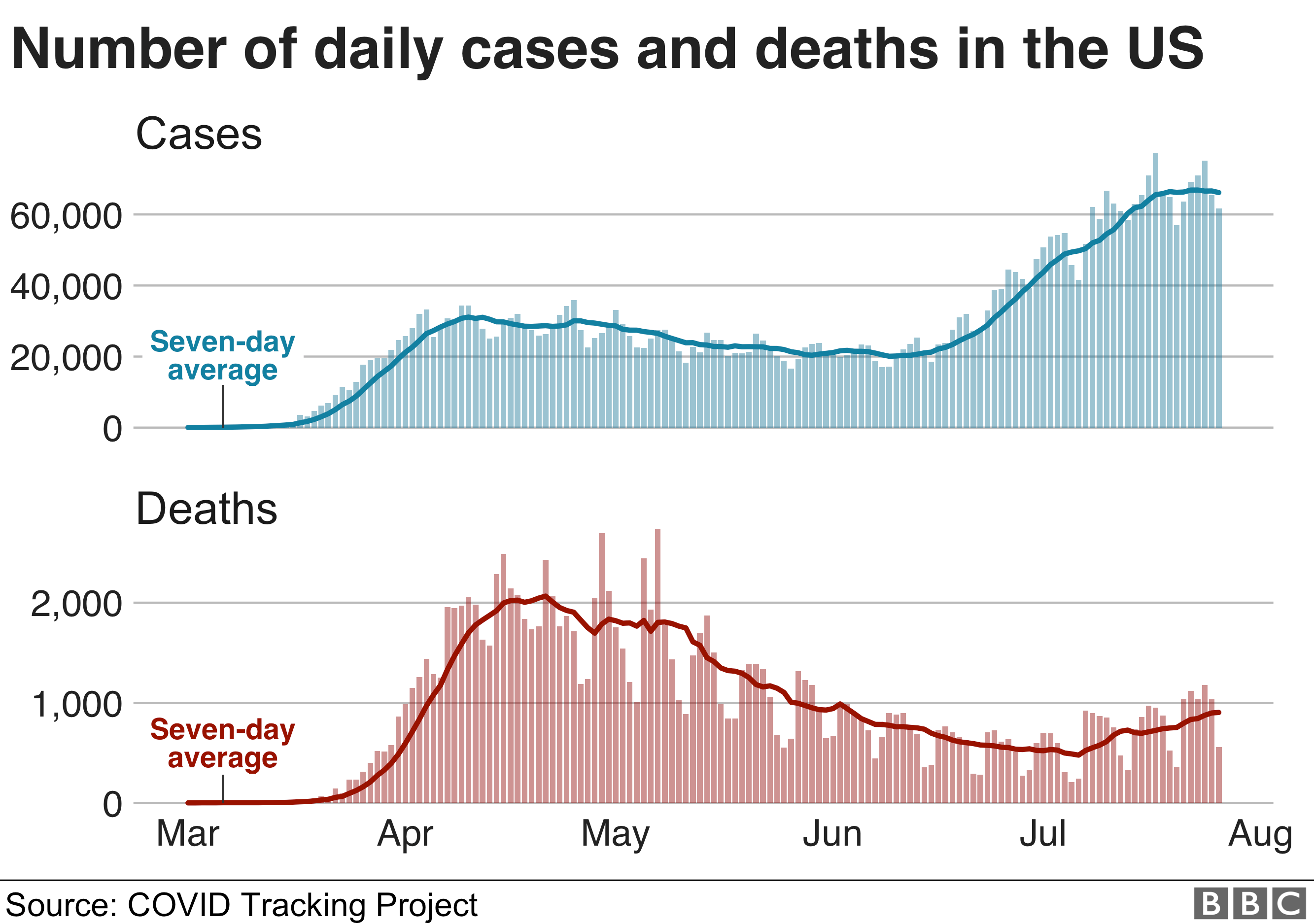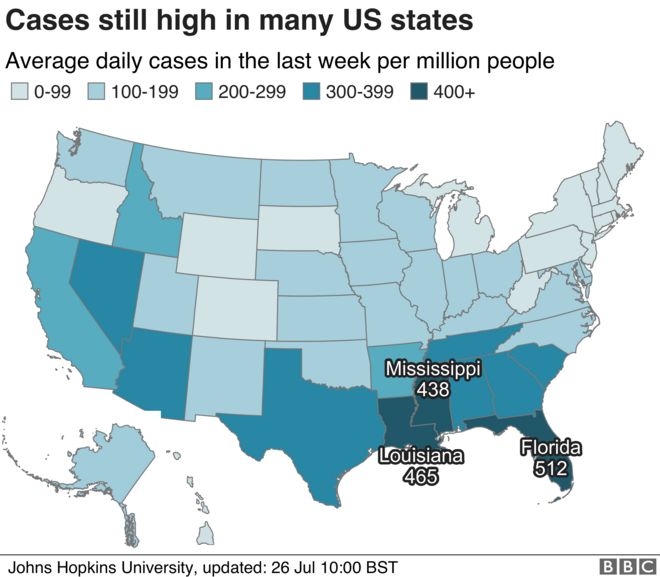 President Donald Trump has warned that the US pandemic may "get worse before it gets better".
He has also urged Americans to wear face coverings, saying "they'll have an effect and we need everything we can get".
Previously, the president had said he would not tell people to wear masks.
The majority of state governors have now ordered that the wearing of masks in public be mandatory, rather than a personal choice.
The University of Washington predicts the death toll could hit more than 220,000 by the beginning of November – though it says this could be reduced to about 180,000 if 95% of Americans wear masks in public.